Kerman
WE WANT TO TEAM WITH YOU TO SERVE YOUR KIDS
When we align ourselves with the calling of Christ, we place Him at the center of our lives.
The most effective way to empower our children to become Christ-centered individuals who are firmly anchored in the Bible and capable of making a positive impact on the world is by bringing children into age-appropriate worship where they can belong to the family of God, grow in their relationship with Christ, learn to serve, and then go share Christ in the world!
Contact us to learn more
Locations
Church for Kids
CREATING SAFE SPACES FOR YOUR KIDS TO BELONG
Safety is our top priority at NP Kids. Our goal is to create a secure environment where children can explore and discover Jesus. We are committed to ensuring that children feel safe in every aspect – physically, emotionally, and spiritually.
We create age-appropriate environments and have age-specific teams to serve kids of these ages:
Nursery
2years - 4th Grade
5-6th Grade
Limitless Kids
We celebrate when you commit to helping your little ones know, love & follow Jesus.
Northpointe's Parent Child Dedication is all about recognizing this important commitment with your church family. Parent/Child dedication is an opportunity for parents to present their child before God and His people asking for grace and wisdom in carrying out their responsibilities. Parents come praying their child will one day trust Jesus Christ as Savior.
Parent Commitments
During the dedication service, parents promise before God, their family, and the church to raise their child in a God-honoring way. Because parents are the key role models for their children, we ask that they commit to the following before dedicating their child:
Parent(s) have a personal relationship with Jesus Christ.
Parent(s) are regular attenders of Northpointe weekly services and are following Christ
Parent(s) agree with our church's beliefs and values
Parent(s) commit to modeling personal purity and to lead by example in matters of faith and conduct.
Parent Child Dedication services are held throughout the year within our Sunday Morning service
Reach out to our team using the form below and we can help you get setup with the next Dedicate.
Connect with our team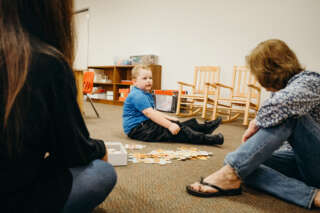 Serve with Kids
Baptism for Kids
Learn About Kids Core
Join the NP Kids Team
As an NP Kids Volunteer, we'll lead you through the application process and provide training to equip you as you care for kids and connect with them on their level. Our greatest desire is to help kids meet Jesus and encourage them to live for his purposes.
To get started, take a few minutes to fill out and submit one of the ministry applications below. Click on the one that best applies to you!
Connect to our Kids Team
CONTACT OUR KIDS TEAM
Whether you have questions about how we do church for kids here at Northpointe or you just want to connect with our teams, we'd love to connect with you. Use the form here to let us know how we can best help you.
Contact Us